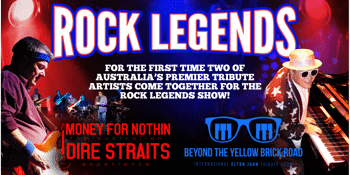 Rock Legends
The SoundLounge (CURRUMBIN, QLD)
Friday, 31 May 2019 7:30 PM
Money For Nothin Dire Straits & Beyond the Yellow Brick Road

MFN:
"Money for Nothin was formed in late 2017 as a tribute to one of the world's most popular bands from the 70's and 80's – Dire Straits. The musicality and attention to detail has made this show a must see for any rock enthusiast, guitar lover or Dire Straits fan!"

YBR:
For over 2 decades Mr. Kim Hoffmann and his band have been regarded as the world's most authentic sounding premier Elton John Tribute! Performing for global audiences ranging from die-hard Elton John fans, to real life royalty and international celebrities alike in Europe, Asia and the USA.