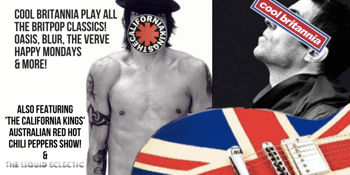 CANCELLED - Cool Britannia play Britpop (also feat. California Kings & The Liquid Eclectic)
The SoundLounge (CURRUMBIN, QLD)
Saturday, 9 May 2020 7:30 PM
Britpop heavyweights Cool Britannia are coming to the Gold Coast for one night only! Joining this 90s music extravaganza line-up is The California Kings who will have the dance floor rocking with their incredible Australian Red Hot Chili Peppers show. Kicking off the night are– local rock & roll favourites The Liquid Eclectic.

Cool Britannia
Strap in for the headliner band Cool Britannia, playing all the classic Britpop hits of the 90s! These fantastic musicians will have you signing along to huge anthemic songs from Oasis, Blur, The Verve,
Happy Mondays, Stereophonics & more!


The California Kings
The ultimate Australian Red Hot Chili Peppers show!
The California Kings pay tribute to the ultimate funk rock quartet who have transcended three decades of chart-topping success and gathered one of the largest die-hard followings in the world.


The Liquid Eclectic
As the title suggests, their music is eclectic with music styles ranging from alternative rock, blues, hard rock, acoustic instrumental and roots. Their debut album 'The Purple Pill' has been unleashed on the world with a new and exciting field of sound.